Belize Island Retreat - 20th of May to 27th of May 2018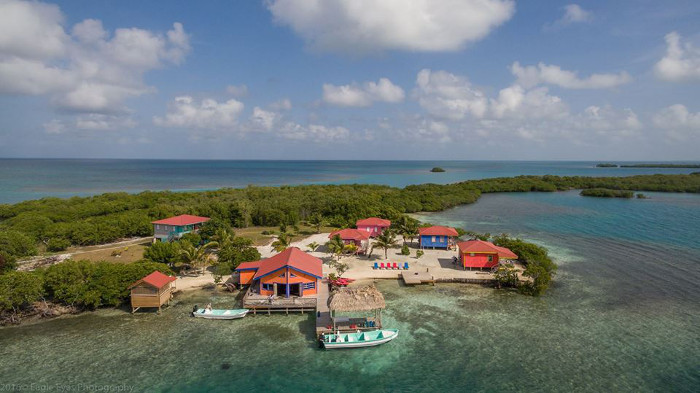 Belize Island Retreat
Enjoy 7 days & 7 nights on a private island @ Yok Ha Resort
Six Yoga/Meditation classes during your retreat are included (2)
Three Meals a day are included (3)
Yoga, Meditation, Fishing, Snorkeling & World-class Diving, Kayaking, Relaxing & Sun-bathing @ Yok Ha Resort is highly encouraged
Kayaks and snorkel equipment are included
Flights for this trip are NOT included (4)
A $500 non-refundable deposit is expected when you sign up for this trip - Please take out your own Trip Insurance (5)
---
---
For all of you Yogis & Yoginis interested in our Belize Private Island Adventure - here is more detailed information about the trip. Of course husbands, wives, girlfriends, boyfriends, friends, partners, etc. are very much welcome...You have to be 18 years of age.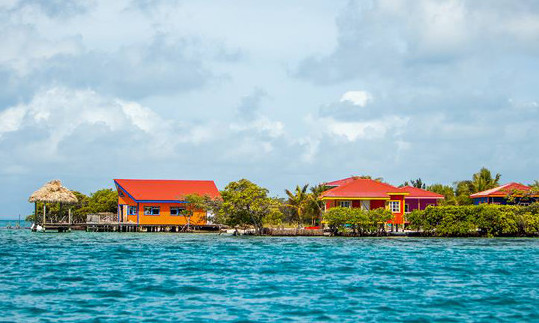 May 20th to 27th 2018
Join Petra Büte & Lurie Nassau for an exclusive Diving, Snorkeling & Yoga Adventure. Enjoy connecting with other like minded yoginis & yogis on a private island in Belize. This relaxed resort is located on a private island that is accessed exclusively by boat. The 5 airy cabanas feature sea views and free Wi-Fi, plus handmade furniture, wood floors and vaulted ceilings. All cabanas have verandas with hammocks, and the LOA cabana has an outdoor shower. Meals are served in a relaxed restaurant/bar located over the water (vegan and vegetarian options are available). Alcoholic drinks & sodas are offered for an additional fee. There's a beach and a dive center. Tours can be arranged.
Six (6) yoga/meditation classes during your 7 day retreat and only Eight (8) open spots.
Call us or e-mail us today
303.748.28I7 or e-mail petra@funtasticretreats.com
720.732.02I0 or e-mail lurie@funtasticretreats.com
Belize Schedule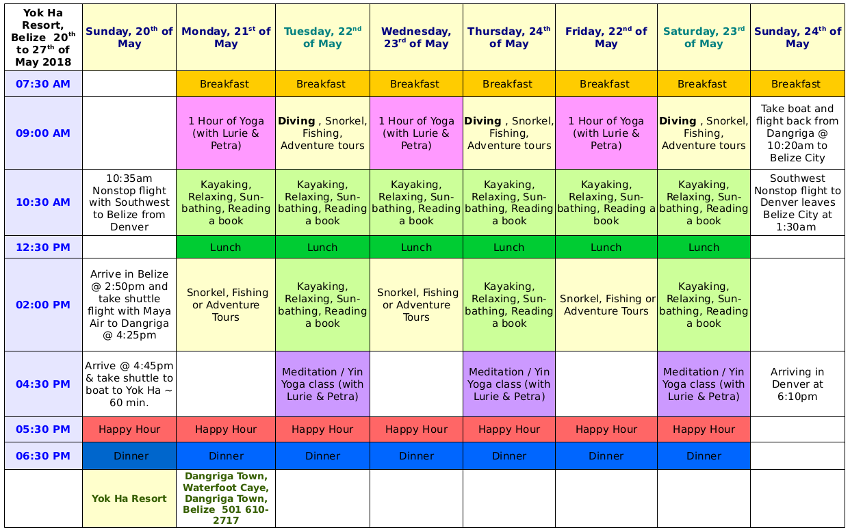 Here is our Private Island - Scuba, Fishing, Snorkel Yoga Adventure (PDF) for you to download for our Belize trip. This gives you a good overview of what is happening during the week.
Belize Scuba, Snorkel, Fishing & Yoga Retreat 2018
Yok Ha Resort got a solid 4+ Star reviews from Trip Advisor.
Yok Ha is a private island resort perfectly situated along the Belize Barrier Reef. Join us for Yoga, world class scuba diving, snorkeling, sun-bathing and relaxing. Located only 8 miles off the coast of south-central Belize.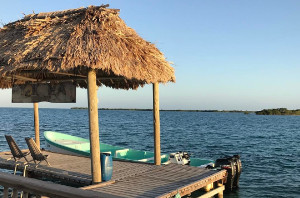 Yok Ha Island Resort is on a three (3) acre private island just eight (8) miles east of Dangriga in Southern Belize. The island resort consists of five deluxe cabanas which have been designed with privacy and beach comfort in mind. The onsite restaurant serves delicious breakfast, lunch and dinner, and the bar is the perfect spot to grab a cold beer or relax on the deck that overlooks the beautiful Belize Barrier Reef.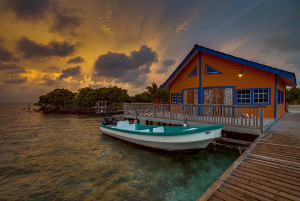 Enjoy leisurely meals at Yok Ha Resort, read a book on the dock, relax in your hammock as it sways with the cool ocean breeze, kayak the smooth ocean water, and explore all that Yok Ha has to offer without ever checking your watch.
Three meals per day are included in your package. Roundtrip boat transfer to and from Dangriga. Marine reserve access fee and the Exclusive use of kayaks and snorkel gears. Glide silently across Belize's crystal Caribbean waters, accompanied by dolphins as you intimately explore remote islands, untouched coral reefs. Snorkel with blue parrot fish, neon blow fish, harmless nurse sharks, six foot eagle rays and more. Your sea kayak journey takes you places that few other people have a chance to experience.
Feeling Adventurous? Book your excursion ahead of time! Full and half-day tours tours include transportation to and from Yok Ha Resort, packed picnic lunch, tour permit fees and services of a tour guide. Please take a look at the Adventures & Tours page. These trips are diverse, fun and exciting. Hike, go birding, sail out to sea or cruise up jungle rivers. Marvel at Mayan ruins or visit the world's only Jaguar Preserve. You can even converse with our Howler Monkeys, but don't be offended if they shout back at you!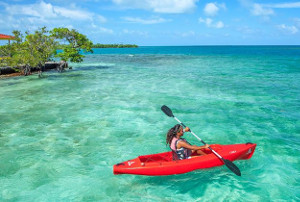 FAQ's about this trip & more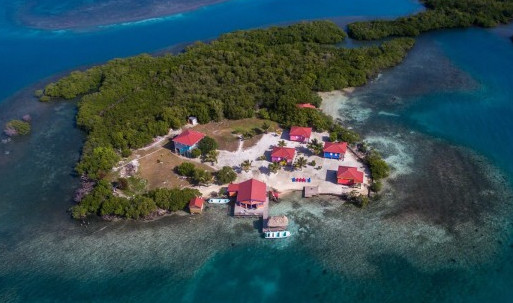 Do I need a Passport?
YES, you will need a valid Passport and one blank page for the entry stamp. It needs to be valid 6 months after your return date.
What is the language in Belize? Do people speak English?
Yes! The official language spoken in Belize is English.
What shots are required for Belize?
All travelers should be up to date on routine vaccinations while traveling to any destination. Some vaccines may also be required for travel. Center for Disease Control recommends Hepatitis A & Thyphoid, because you can get both through contaminated food or water in Belize regardless of where you are eating or staying. Use common sense and repellent.
What currency is used in Belize?
Belize currency exchange is extremely easy for American visitors. The Belize dollar is locked at $2 Belize = $1 USD. So it's very easy to see how much something is costing in USD when you go shopping. Most accommodations and tours are listed in US$ prices, and most restaurants, shops, etc. are listed in BZ$. Nearly everyplace readily accepts USD currency.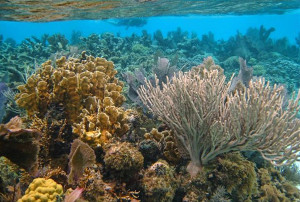 Where is Belize?
Belize is located in Central America and it is bordered to the north by Mexico, to the south and west by Guatemala and to the east by the Caribbean Sea. They are a diverse country with various cultures and languages. They also have the lowest population density in Central America with 35 people per square mile.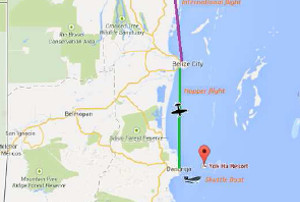 Where is Yok Ha Resort in Belize?
Yok Ha Island Resort is on a three (3) acre private island just eight (8) miles east of Dangriga in Southern Belize. Take a look at this Map.
How do we get to Belize?
Book your international arrival flight into Belize International Airport (BZE) for May 20th 2018. Coming from Denver, Southwest Airlines has nonstop flights at 10:35am to fly to Belize City and return with Southwest Airlines at 1:30pm on Sunday 27th of May. That's the day before Memorial Day. You are able to fly into Belize International Airport (BZE) on most major airlines. International airfare is not included in your stay. Please book your international flight into Belize City for an arrival no later than 3 pm. The last Maya Island Air departs Belize City for Dangriga at 4:25 pm. We will leave the island on May 27th 2018 at 8:45am and take the 10:20am flight from Dangriga to Belize City.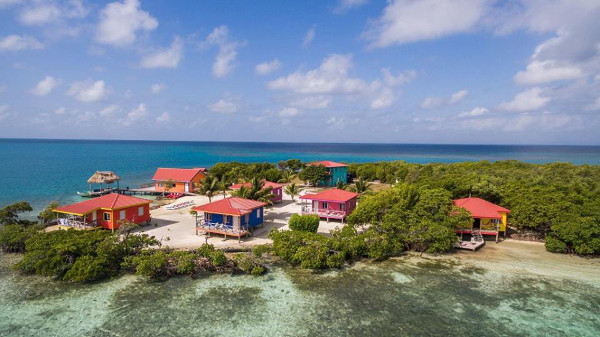 How do we get to Yok Ha Resort?
Once arriving to Belize International Airport (BZE), most guests take a short commuter flight to Dangriga on Maya Island Air or Tropic Air. Round trip flights between Belize International Airport (BZE) and Dangriga (DGA) are $170 US per person. This is not included in the package rates. Once you have arrived in Dangriga, Yok Ha staff will meet us at the Dangriga airport and take us to their dock for the 8 miles crossing from Dangriga to the island. The shuttle and boat ride will take approximately 60 minutes.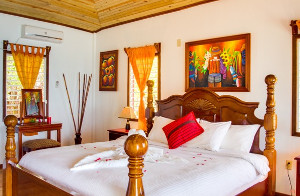 Where will we stay at Yok Ha Resort?
The island resort has unbeatable, luxurious accommodations in the form of cabanas. The cabanas at Yok Ha Island Resort have been constructed in a way that each guest's privacy is a number one priority while also keeping in mind that a beach front view is important too. Each cabana is spacious and has enough room to relax inside or outside on the veranda.
Is air-conditioning availabe at Yok Ha Resort?
Yok Ha accommodations do include air-conditioning. All of their cabanas also feature both wall and ceiling fans.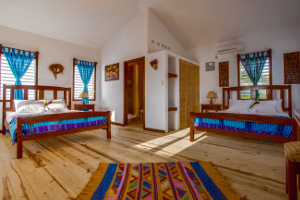 What are the Cabanas like?
Yok Ha only has 5 cabanas. One is a honeymoon suite and more luxurious with a private beach. You will have an incredible view of the beach and the azure Caribbean Sea. Privacy on the spacious veranda with direct view to the sea and daily housekeeping services. Their deluxe seafront cabanas are literally steps from the water's edge. Also air conditioned, the spacious cabanas have an awesome morning view. Wake in the morning to the sounds of waves and read a book on your veranda in the hammock or chair and sip a cup of coffee – a new day in paradise. Simply lounge on the beach or on your deck or veranda. Snorkel around the island or swim allowing the cool Caribbean waters to cool you off.
Snorkeling at Yok Ha Resort
Yok Ha Resort will give our group a 30% discount if we have 5 people per snorkeling trip.
Diving at Yok Ha Resort
The Caribbean waters teem with exotic sea life. Nearby cayes afford divers thrilling encounters in crystal clear water. Dive into the wonders of the magnificent Barrier Reef of Belize. Their dive center was set up with you in mind. They rent all dive equipment. Their experienced PADI Dive master will outfit you then show you the most beautiful experience underwater. Please contact Lurie @ 720.732.02I0 or e-mail lurie@funtasticretreats.com for more detail about diving at Yok Ha Resort.
SCUBA DIVING at Local reefs One (1) tank Two (2) Tank
SCUBA DIVING at Glovers Atoll
Blue Hole
Turneffe Atoll
Gladden Spit (whale shark)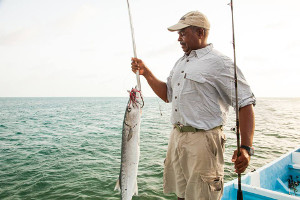 Can I go fishing?
Yes, they provide fishing tours for an additional fee. With its abundance of marine life the Belize's Southern Reef is an angler's paradise! From reef trolling to river fishing to trying your luck on the flats, you'll have a fishing experience you'll never forget! Belize is renowned for hundreds of flats and cayes, Yok Ha Resort actually resides right in a "Permit Alley", where the even best angler's skill will be challenged.
Bottom Fishing
Trolling & Bottom Fishing
Fly Fishing
River Fishing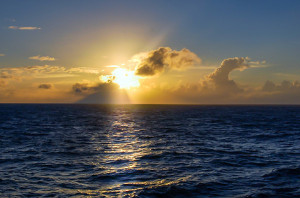 How is the weather in May in Belize?
Expect an average daily high temperature around 86°F. The average low temperature is 78°F. The dry season is typically from January to the end of May.
Is there Electricity at Yok Ha Resort?
Yes. Their power is 110V with the same plug style as North America.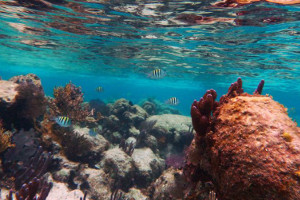 Can you drink the water at Yok Ha Resort?
They provide drinking water for all their guests.
What time zone is Belize?
Central time. In May, if it's 1pm in Colorado, it's 1pm in Belize. Belize does not adjust for Daylight-Savings Time. Coming from Colorado we will have the same time.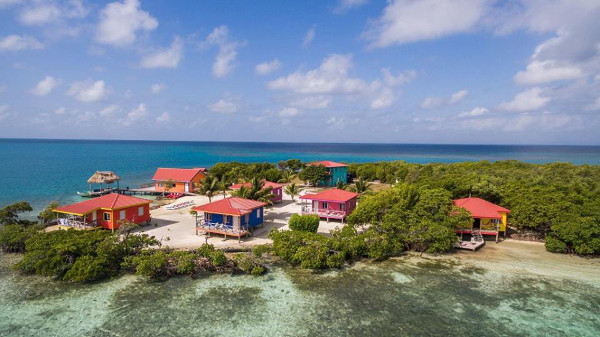 What should I pack?
Below are most things we recommend:
Yoga Mat (Please bring your own)
Yogi Toes (mat-size yoga towel for slip prevention)
Bug repellent
Headlamp or flashlight
A pen on the flight to fill out the forms to and from your destination
Earplugs (if you have trouble sleeping with people in a room)
Flip flops or sandals
Tennis shoes (for hiking, horseback riding or running, etc.)
Sunscreen & lip balm
Sunglasses
Hat - for sun
Water bottle & wash-cloths
Clock
Tampons
Hairdryer available for use, but you may bring your own
1st Aid kit & any Medications you need
Small backpack for day trips
Bathing suit(s) and cover ups
Comfortable light weight clothes (shorts, skorts, skirts, light dresses and tank tops)
For some excursions or for the evening you may need long pants, long sleeves or close toed shoes
Shawl, sweatshirt, poncho or fleece (one warm thing for cold mornings and evenings)
Journal/notebook and pen
Handy wipes or hand sanitizer
Camera, Computer, Phone, Pads and chargers (Wifi is free)
Yoga/Workout clothes
Dry bag (because of the humidity your bathing suits may not be dry before departing)
Umbrella or light rain jacket (for afternoon showers) & windbreaker
A good book or Kindle, magazines, word puzzle, card games (or two or three)
Cash for personal use. The resort accepts Visa & Mastercard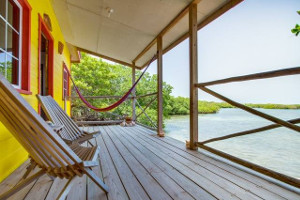 What kind of food will they offer?
From breakfasts of fresh tropical fruit and eggs to casual lunchtime sandwiches to decadent three-course dinners, all of their meals use the freshest ingredients. Daily specials and provide sea food and land meat. All baking is done on the premises. If you are vegetarian, vegan, or have any special dietary requests, be sure to let us know.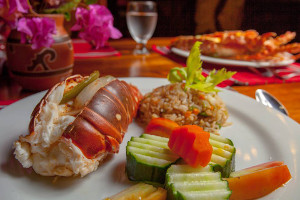 What time do we eat?
We will eat at the main house every day. Breakfast is set between 7:30 to 9:30am. Yoga is at 9am. Lunch is at 12:30pm and Dinner is at 6:30pm. Yoga is at 4:30pm before Happy Hour.
Alcoholic Beverages
All alcoholic beverages, beer and sodas are NOT included. You can bring a bottle or two of alcohol beverages in your suitcase. If you fly out with Southwest Airlines from Denver on the nonstop flight they check 2 bags for free. There are no refrigerators in the cabanas. The $50/as day alcohol package includes the tip and the 12.5% tax is added for all rum drinks.
What time is sunset?
Sunset is at 6:22pm.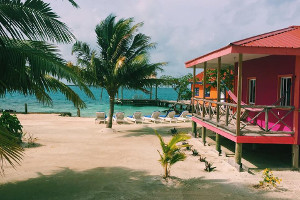 Can I get a massage?
Yes you can get a massage. $125 per hour for Swedish and $150 for deep tissue.
Do I need to bring my own toiletries?
No, they provide toiletries, however you might want to bring your own travel-size personal toiletries.
Is it okay to sign up with my spouse/partner/friend?
Definitely! This retreat is a great opportunity to reconnect with a spouse/partner/friend away from your busy schedules. You also get a built-in roommate this way!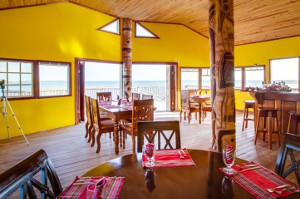 What type of yoga classes will be offered?
Hatha Yoga classes will be offered throughout the week. The three morning classes will be a little bit more challenging at 9am. Three Meditation & Yin yoga classes are offered in the evening at 4:30pm and will be much less demanding.
I am new to yoga. Will the classes be too challenging for me?
The best thing about yoga is it can be modified for all levels. You can come and never have taken a yoga class before! This is a great opportunity to begin and learn. The classes will be challenging in a good way. Petra & Lurie are both trained to teach beginners. If you are an experienced yogi, both can offer you advanced variations and assist you with more challenging postures.
How much yoga will we practice? Do I have to attend every class?
We will have six yoga classes for 60 minutes each. You can attend any of the classes you wish, but you can also skip any classes you want.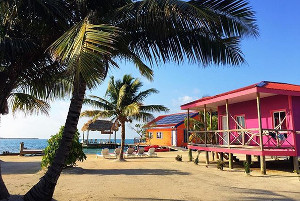 What contact information can I give my family in case of an emergency?
Their local telephone number is (011) 501-610-2717. You can also have your friends or family send an email to their island manager at info@yokhabelizeresort.com. Please call: (011) 501-522-3802 or (011) 501-610 2717 . They will gladly relay any messages to you.
How old do you have to be to attend this retreat?
We ask that all of our guests are at least 18 years old.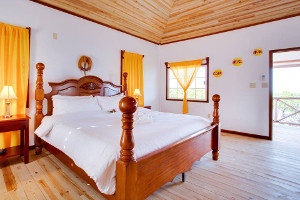 Is there Wifi?
Yes! Wireless Internet access is available in the main center. For communication with your loved ones we recommend you download on your phone WhatsApp, which gives you free text messaging all over the world. You can also chat for free with Skype. The person you like to reach, needs to have those apps downloaded on their phone as well.
Is there Cell Service?
Cellular service is generally available at Yok Ha Resort, however, the signal can be inconsistent. They recommend speaking with your cellular service provider to set up an international plan so you don't incur unnecessary charges. They have a house phone that you are welcome to use with the purchase of an international phone card. But what an opportunity to leave the cell phone turned off for a whole week. Just you, the ocean and incredible island setting.
Do I need to tip at the resort?
Gratuities are included in your package. When you order a drink at the bar, it will be added to your final bill at the end of your stay. A 10% tip will be added to your bar charge. A 12.5% tax will be added to all purchases.
Can I buy an alcohol package?
Yes, you can buy an alcohol package at the resort, but it is only for Rum drinks. It is $50 a day. Wine is not included in this package.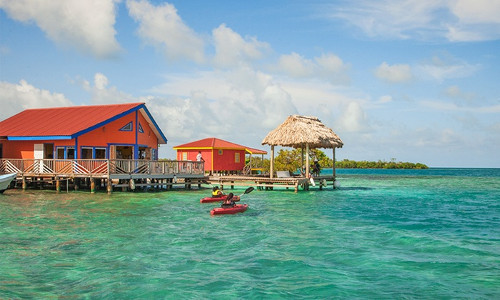 ---
---
(1) Only 8 spots are available for this exclusive Diving & Yoga Retreat. There are only five private cabanas are on this island.
(2) We offer 6 Yoga & Meditation classes during this retreat. Please bring your own yoga mat!
(3) Three meals per day are included.
(4) Flights to and from Belize City (BZE) are Not included. This is your own responsibility to book the flights we suggest or book a flight that gets to Belize City at the same time frame. The flight to Dangriga (DGA) - from Belize City is NOT included. You will have book it with either Maya Island Air or Tropic Air.
(5) The cost for this amazing adventure to Belize for 8 days & 7 nights will be $1500 per person for the seafront cabana.
The deluxe cabana is priced at $1600 (right on the beach). We offer a $50 discount for $1550 until March 1st 2018 for the deluxe cabana. There is one king-size bed in each deluxe cabana, but an additional queen size bed can be added.
The honeymoon suite is $1700 per person (LOA - Beautiful Lady) and has it's own private secluded beach. We offer until March 1st a SPECIAL price for $1600 per person or $1350 per person for 3 in this cabana on its own private beach.
We require a $500 non-refundable deposit to reserve your spot when you sign up. 9% VAT (Valued Added Tax) plus 10% Tip is included. The full payment amount has to be received 60 days prior to departure, by 20th of March 2018.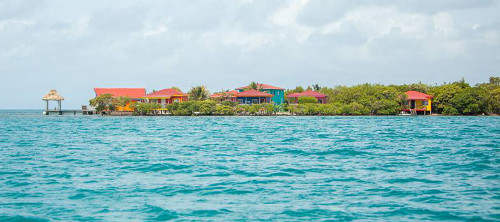 Payment Information & more
For payment please use our Paypal e-mail: lurienassau@yahoo.com to transfer money. You can always send us a check as well. Please send us an e-mail to lurienassau@yahoo.com and we will provide you with a mailing address. We can accept Credit Card payments with a 3% extra charge.
Before you go on this trip - we expect you to print and sign our Yoga Retreat Legal Liability Waiver (PDF) and fill out the Emergency Contact Form (PDF). This also should have your Airline flight information listed if you plan to travel from another part of the USA.
If you can't make this trip (for whatever reasons) the full amount is NON REFUNDABLE - please take out your own insurance for this trip & airfare! We recommend Allianz Travel Insurance. Thanx!
---
---